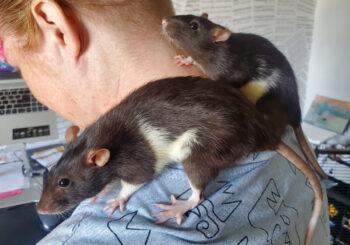 Serein & Tsunami
This pair of sisters were surrendered to by their previous owner who found herself unable to provide the care they needed.
The foster confessed that she may have chosen their names a little bit too soon. The first day she took them home, Serein found a cozy spot to lounge and took a long nap, while Tsunami spent her entire playtime tearing around the play room, trying to climb the walls. Thus, she decided to name the "calm" girl Serein.
Little did she know, within the next 24 hours, Serein decided that she had recharged her batteries, and she and her sister more or less decided BOTH of them would like to climb the cage door, begging to come out any chance they get, and once let out, they would climb every surface available – including their foster mom1
These two girls are estimated to be be less then one year old. We suspect they were born some time February or March of 2023. They must be adopted together as a bonded pair
If you're ready to welcome an active, playful pair into your family, please fill out an Adoption Application form.