OPRats is always looking for loving foster homes for rats while we work to place them in forever homes.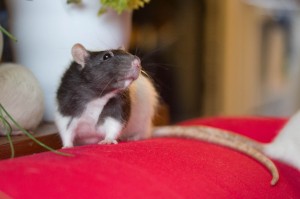 Fosters will be provided with a fully accessorized cage and will not be responsible for paying veterinary costs. Every rat will be evaluated by OPRats and all veterinary care will be arranged through the charity. We ask only that you provide food and bedding, and to carefully monitor your foster rats' health. By offering your time and love to foster a homeless rat, you are giving otherwise helpless and hopeless creatures a second chance at life. OPRats could not exist and would not function without the essential role that our fosters play!
We have an adoption/foster application form that must be filled out. There is a home visit prior to adopting or fostering our rats. We will keep in touch with you about how things are going and help in any way we can. Rats are always fostered in pairs or more, with the exception of senior rats or socialized rats who have lived alone and are not accepting of new rat companions.
Interested? Fill out the application form here.