Over this last weekend a pet store went out of business. The pet store had rats – mostly as feeders, but also sold them as pets. When they closed their doors they had 66 rats – including many who were very, very young. The rats were all together – males and females. The store owner took all these rats and dumped them at the SPCA in Outaouais. They contacted us as they are not equipped to deal with the sheer quantity of small animals. As a result, we have taken in 29 rats – many of which are extremely young and small – so small, that had they still been with their mothers, we wouldn't even consider separating them for another few weeks.
We have amazing fosters. We really do. And we are thankful for them every single day. We put out a call to our fosters begging them for help in saving these young lives and they responded – it is because of them we were able to take in so many. Our fosters have these lovely young ones and our feeding them special diets of wet Oxbow, mushed fruits and veggies, and baby foods to ensure that they grow up big and strong. They will be gradually up for adoption in the coming weeks – and we are looking for suitable homes for their adorable faces.
Interested in bringing some of these adorable faces into your life? Fill out our adoption form and we'll be in touch.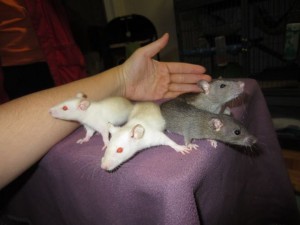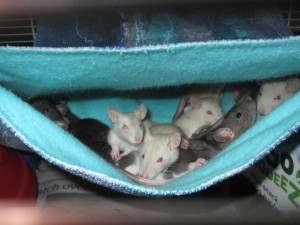 Rats from this Rescue: