On September 25, 2014 we took in a frail, thin, and very sick little girl. Quite honestly, we had fears that she wouldn't make it to October – but had resolved to make whatever time she had left with us as positive, loving, and nurturing as possible.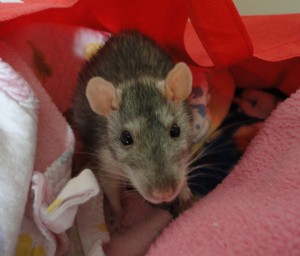 This is Spirit today. She has exceeded all our expectations and has overcome so many obstacles.
In the last two months and a bit we've watched her put on healthy weight and learn to trust humans, under the loving and devoted hands of Anita. She's had various check ups and we were left with the decision to either have her put to sleep because of a large, and growing, tumour that was beginning to hinder her ability to walk, or to try for a risky surgery to remove it. Due to the level of neglect that Spirit encountered in her previous life, her lungs are extremely scarred and battered. The veterinarian gave her a 2% chance of surviving the surgery.
We thought long and hard – and in the end, we decided that the 2% shot of success was better than the alternative.
This morning, Spirit went in for surgery and with fingers and paws crossed across our community – she survived. Her journey is not over yet, but Spirit has shown us that she embodies her name and that she'll keep on fighting.
This is why we exist. To give rats like Spirit, abused and neglected, another chance.