This trio of trouble-makers will light up your day and make sure you never have a dull moment when they are awake and around!
Sisters Smokey, Pinkie & Snowy were abandoned at the SPCA in Gatineau, and were transferred to the rescue soon after as they would have a better chance of getting adopted.
As well, Pinkie had a severe inner ear infection upon arrival. She was unable to walk straight or even balance enough to hold food! Poor girl was not doing well at the shelter at all. After 2 months of antibiotics and anti-inflammatory medication, Pinkie is now zooming around, eating, grooming and playing with her sisters without any problems at all. Unfortunately, due to the severity of her infection and how long it took before she received proper treatment, she will retain a permanent tilt to her head. It does not appear to affect her balance at all.
These girls are an estimated 6-8 months old and still have tons of growing to do.
Below are a few words from their foster parents so you can get to know them better:
"Smokey is very hyper! Why walk when you can run? Why run when you can hop? Why hop when you jump? Always ready for a good time, she will jump on your shoulder so she can see better. This girl is also an expert food-hoarder. Never let her leave your sight as she'll figure out a way to jump on something she shouldn't!"
"Pinkie is a very energetic rat. If left out she will run around the whole time! She loves sprinting from one side of the room to the other and goes around eating the treats the other rats hid. Although she has a head tilt, it doesn't slow her down at all, but makes her look a little goofy when she looks up."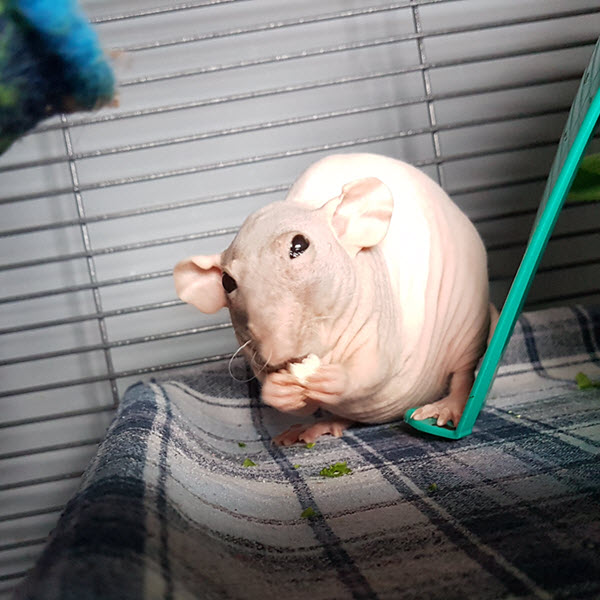 "Snowy is calmer than her two sisters and is the most likely to come for a cuddle. Don't wear socks or she'll nip your toes! And make sure you hide your socks (also papers, cloths, rags or small blankets) as she will steal them and bring them into her nest. Snowy loves to collect everything in sight!"