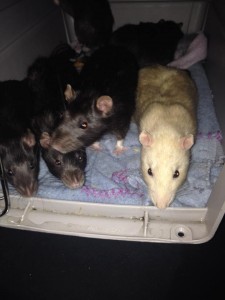 On April 17, 2015 at around 1pm we received a call from a distraught lady named 'Karla'. She had been telephoning for help all morning, but none of the local humane societies or animal shelters in her area of Quebec were able to help her and the 24 rats she had discovered living in a 10 gallon tank in her sister's home.
They had not been fed or given water in days and only upon urging, did her sister agree to give them water and some vegetables. One of the shelter staff mentioned that they had heard of a rat rescue in Ottawa, and thus, Karla got in touch with us.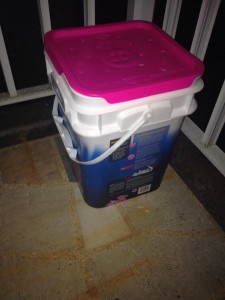 Despite the fact that we had not planned to take in more rats until May, we could not turn our backs on this horrible situation. By 9pm that same day, Camille, our rescue coordinator in Montreal, was able to secure 22 of 24 rats. We discovered later, the woman who had kept them in such deplorable conditions in the first place has a 15 year old son who had originally been breeding the rats to kill and feed to his snake. He had insisted on keeping two of the females. They were kept and handed over in the bucket pictured to the side, lined only sparsely with pine.
All 22 of the rats we managed to remove from the home have been treated for a lice infestation and several others will not be available for adoption until their respiratory infections clear up. Living in a filthy, small glass tank on pine has affected the respiratory systems of most of the older rats.
A few others have fresh injuries, most likely caused by fighting since they have been forced to live in such cramped conditions. They are also being given antibiotics to prevent any further infection.
As of April 19th, 7 of the males, ranging from an estimated 3.5 months old to about 1 year old, have been transported to Ottawa and are now in loving foster homes. A few will be up for adoption, however, we would like to wait at least two weeks to ensure they are healthy. The others will be available for adoption after completing their course of antibiotics.
Please note, the majority of the rats from this rescue are still with Camille in Montreal. If you are able to foster or adopt in the Montreal area, please do not hesitate to fill out our
Available Rats from this Rescue